Champ Check: Only Indiana, Duke, Florida pass all tests
Just three weeks ago, 10 teams met the statistical conditions of the last 12 champions. Since then, conference play has weeded out four pretenders. North Carolina State, Minnesota, Ohio State and Kansas have all fallen by the wayside over the last handful of games. They no longer possess all of these eight "champ-worthy" credentials.
A one, two or three seed (AP top 20 make the grade)
From a Power conference: ACC, Big East, Big Ten, Big 12, Pac-10 or SEC (CF in the list below)
Either went to the previous year's dance or have an All-American (*/12)
Led by a coach with more than five tourney trips and at least one Elite Eight run (CO)
Averaging more than 73 points per game (PF>73)
Allowing fewer than 73 points per game (PA<73)
An average scoring margin of at least seven points per game. (SM>=7)
A schedule among the 75 strongest in the country (S<75)
Today, only six teams meet all these criteria. Here are the numbers: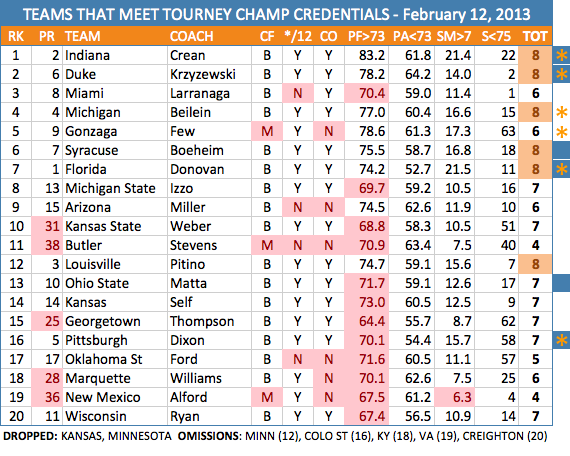 Under the "TOT" column at the right, an "8" means the team met all the credentials. (Ignore the blue flags and the orange asterisks for a moment.) Red-filled boxes identify credentials each team failed to meet. The half dozen teams on the champ list this week are Indiana, Duke, Michigan, Syracuse, Florida and Louisville. Kansas is the most recent team to lose champ cred. Check out the Jayhawks' scoring average. It should be more than 73 points a game. It's exactly that -- so they're a measly tenth of a point away from making the grade.
Now, about those blue flags. These tabs identify six teams that meet two other champ stats I introduced three weeks ago. If you're a fan of Ken Pomeroy's possession-based statistics, these filters might be valuable to you. I don't include them in the basic champ check because I only have nine years of pre-tourney KenPom data. That said, every one of the nine champions since 2004 has had an offensive efficiency rank among the top 17 and a defensive rank among the top 25.
When you evaluate the top 20 teams in the AP poll on these two KenPom rankings, two of our potential champs don't make the grade: Michigan drops off because it ranks 32nd on defense and Louisville is just 19th best on offense. On the other hand, two teams meet the efficiency ranking criteria that don't have the eight traditional champ stats. That would be Ohio State (16 OE, 17 DE) and Pittsburgh (9 OE, 7 DE).
Efficiency ratings don't reflect the raw possession-based numbers, however. If you look at the last nine champions, none of them have scored fewer than 115.1 points or allowed more than 92.2 points per 100 possessions. When you evaluate the AP top 20 against these criteria, you come up with a different set of qualifying teams than if you just went by offensive and defensive efficiency rankings. See the orange asterisks? Those are the squads that meet the 115.1 offensive and 92.2 defensive possession-based scoring thresholds. Here's a better illustration: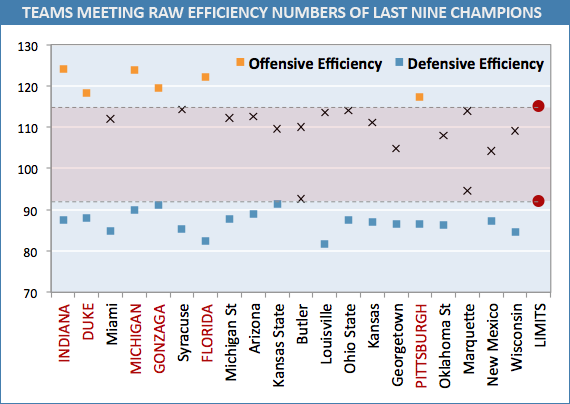 The six teams in all caps and red letters have champ-worthy raw offensive and defensive efficiency numbers. Indiana, Duke, Michigan and Florida are familiar names. Gonzaga and Pitt are surprises. Here's another shocker: Minnesota, which is nowhere to be found in the AP top 20, also has the possession-based stats of all champs since 2004.
Three ways to measure potential champs … and 10 teams that make at least one of the lists. Here are the "Terrific Ten," with the number of champ tests they pass:
Indiana - 3
Duke - 3
Florida - 3
Michigan - 2
Syracuse - 2
Pittsburgh - 2
Gonzaga - 1
Louisville - 1
Ohio State - 1
Minnesota - 1