Josh Katzowitz and Andy Benoit resume their debate, with today's focus on defensive ends.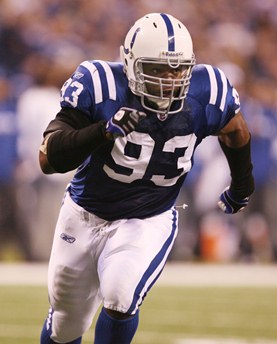 Andy Benoit's top five

5. Richard Seymour, Raiders

4. Justin Tuck, Giants

3. Mario Williams, Texans

2. Jared Allen, Vikings

1. Dwight Freeney, Colts

Since we're classifying Haloti Ngata as a DT, Seymour sneaks in as arguably the NFL's best run-defending end.

Tuck is by far the best left end in the game. Left ends tend to be run-stopping anchors. Tuck is strong enough to do this, but his sinewy frame and athletic versatility also enable him to turn the corner or attack gaps inside. What's more, Tuck has arguably the richest repertoire of one-on-one moves in the league.

Williams is blessed with every athletic gift man possesses – including the strength and speed to both anchor and chase against the run. He needs to command more attention on a weekly basis, though.

Allen is impossible to contain without double teams, and even then, he'll still wear an opponent down. Everyone talks about Freeney's speed and spin move, but his greatest asset is actually his bull-rush.
Josh Katzowitz's top five

5. Justin Tuck, Giants

4. Trent Cole, Eagles

3. Mario Williams, Texans

2. Jared Allen, Vikings

1. Dwight Freeney, Colts
Yet another similar list where there's hardly any disagreement. Either I'm learning something from you, Andy, or your film-watching, note-taking, research-doing, obsessive-compulsive nature is being badly influenced by me.
You want to talk about a pass-rusher, you talk about Freeney. He had an amazing first four years of his career, and after slumping (in part, because of injury) in 2006-07, he's returned to form the past two seasons. He's a troublemaker for even the NFL's best offensive tackles, because he can go inside on them and still get to the quarterback.
In the past three years, Allen has recorded at least 14.5 sacks, accumulated at least 50 tackles and caused at least three forced fumbles. He's simply one of the top DEs in the NFL. He's rather average against the run, which is why he's not No. 1 on my list, but the man can rush the quarterback. Combine him with teammate DE Ray Edwards and Minnesota DT Kevin Williams – our unanimous pick for the top 4-3 DT – and the Vikings front line is the scariest in football.
Good thing the Texans didn't take Reggie Bush with the No. 1 pick in 2006, eh? Instead of a RB that hasn't lived up to his billing, Houston got a player who's improved immensely the past three seasons and anchors that defense.

Did you know Cole has 42 sacks since 2006? Maybe not, because Cole flies a little under the radar, but the Pro Bowls in 2007 and 2009 won't be his last. Tuck's quickness is one of his biggest strengths, but you don't like to see his sacks go from 12 in 2008 to six in 2009.

Andy's rebuttal

Credit Charley Casserly for making the Mario Williams pick. That was Casserly's last stand as the general manager in Houston. I had an opportunity to ask Casserly once if he ever looks back on that pick and smiles satisfactorily for proving so many people wrong. He basically said he was so dialed in on his job at the time that he never really knew there was much controversy surrounding the Williams pick. He wasn't boasting or being coy – he was just stating a simple truth.

I love Cole. Not only is he a fantastic edge-rusher – which is due to his leverage as much as his speed – but he's a terrific run-defender, as well. Cole maneuvers through the trash and makes stops as well as any player in the league.

That's the nice thing about our DE lists: there are no Kabeer Gbaja-Biamilia types. Everyone here is an elite four-down player.

Josh's final word

That's funny: Kabeer Gbaja-Biamilia is actually No. 6 on my list.
I don't buy that for a second about Casserly – now one of CBS' own analysts. I'm sure that, wherever he lives, before he goes to bed, he walks outside in his slippers and pajamas, looks at the moon, shakes his fist at the sky and says, "Dammit, I was right! I was right!" And before he goes inside to drift off into a fitful slumber, he turns back and screams to the heavens, "And Bill Belichick can suck it!"



Other positions: Safety | Cornerback | 3-4 Scheme Outside Linebacker | Punter | Kicker | 4-3 Scheme Outside Linebacker | Inside Linebacker | Defensive Tackle)


--Josh Katzowitz and Andy Benoit

For more NFL news, rumors and analysis, follow @cbssportsnfl on Twitter.