On anniversary of Prince Fielder signing, Michael Bourn still jobless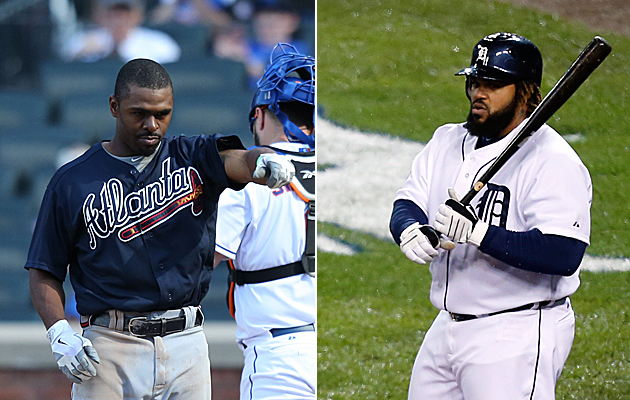 Bourn has finally passed Prince on the calendar in free agency. (US Presswire)
Jan. 24 is becoming a huge day in the big-league offseason. This year, Justin Upton was traded to the Braves. Last year, at just after 3 p.m. ET, news broke that Prince Fielder had signed with the Tigers. I bring this up now because of the lingering existence of Michael Bourn on the free agency market.
For the past three weeks, every time that I've gone on a radio show, I've been asked why Bourn (and free-agent pitcher Kyle Lohse, for that matter) is still sitting there on the market and if there are any legitimate suitors for him. Time and again, I answered with some derivative of, "Well, last year at this time, Prince Fielder had no home and there weren't many, if any, legitimate fits for him, either."
We can't say that anymore. Last year at this time, we were in awe of how the Tigers swooped in and added an even more powerful bat to their already potent lineup.
And this year, we still await word on Bourn. Perhaps not coincidentally, both Fielder and Bourn (and Lohse) are clients of the most famous agent in baseball: Scott Boras.
There's obviously still a market for the services of Bourn -- as my colleague, Jon Heyman, outlined on Thursday morning, though we can now cross the Braves off the list -- but I just found it worth noting that this was the date last year on which Prince Fielder signed. Yet Bourn continues to wait.
For more baseball news, rumors and analysis, follow @EyeOnBaseball on Twitter, subscribe to the RSS feed and "like" us on Facebook. Also, individually interact with us on Twitter: @MattSnyder27, @daynperry and @mikeaxisa.