Astros' Porter has Parcells and passion, but it may not help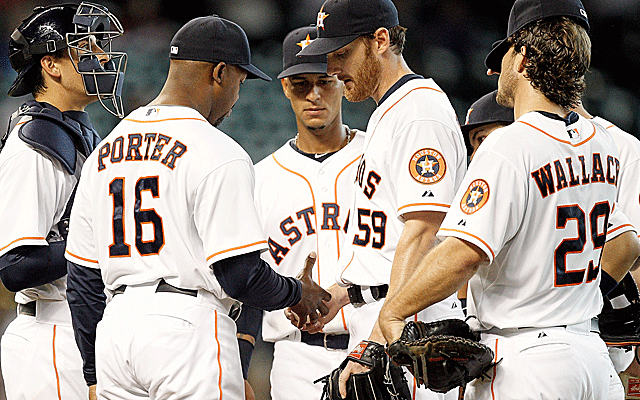 Manager Bo Porter (left) and the Astros don't think they're going to lose 120 games, even if most do.
(AP)
JUPITER, Fla. -- It happened again Monday.
It's happened every day since spring training began.
Someone, unprompted, predicts the Astros will lose 120 games.
Monday, it was a veteran scout. Sometimes, it's a player, or a manager, or a general manager.
Everyone is talking about the Astros, and the only topic is how bad everyone is convinced they're going to be.
"We will outperform the expectations," Astros general manager Jeff Luhnow said with some confidence, and also with a smile.
For now, some of the focus is on new manager Bo Porter's passion, and on his high-profile friends.
Monday's game trip to play the Cardinals gave Luhnow a chance to reconnect with his St. Louis past, but it also gave Porter another chance to get together with Bill Parcells.
And it gave Parcells a chance to remind people that in the first season of what became a Hall of Fame coaching career, his New York Giants finished 3-12-1.
"I almost got fired," Parcells said. "Sometimes the situation won't let you win."
Parcells and Porter met several years back through mutual friends. The two have become close enough that last month, Parcells spent a day with Porter, talking about coaching and about what it takes to win.
"I know he wants it bad," said Parcells, a longtime baseball fan who was close with ex-Cardinals manager Tony La Russa. "That inspires me to give it everything I have to help him."
But sometimes the situation won't let you win.
Parcells knows that. Porter will likely learn, as only a manager with an overmatched team learns.
Dave Trembley learned. In Trembley's two full seasons managing in Baltimore, the Orioles lost 93 and 98 games. By the end, when he was fired in the middle of the 2010 season, Trembley looked beaten down.
And he never lost 100 games in a season. Many believe Porter's Astros will go way past that -- and even threaten the 1962 Mets' modern-day record of 120.
Trembley's Orioles couldn't compete in the American League East. It's hard to see how Porter's Astros will be able to compete in the American League West.
"The AL West now is what the AL East was then," Trembley said.
Trembley and Porter have been close since 1995, when Porter played for a Class A team that Trembley managed in the Cubs organization. He played three seasons for Trembley in the minors, and came away saying that if he ever got a chance to manage in the major leagues, Trembley would be on his staff.
Now Trembley is a Porter believer.
"He's competitive, but he's got a plan," Trembley said. "He's got a vision. You want these guys play. They play with passion."
For now, they do. The Astros are thrilled with the way their spring has gone. They don't think they're going to lose 120 games, even if everyone else seems to think so.
For now, they have Porter's passion.
"It's hard to be around me and not have passion," Porter said Monday.
We'll check back on that once the season starts. We'll check back on that in June or July.
Everyone else thinks it's going to be bad by then, real bad.
Passion won't be enough.
Sometimes the situation won't let you win.