Larry Bird's son accused of trying to run down ex-girlfriend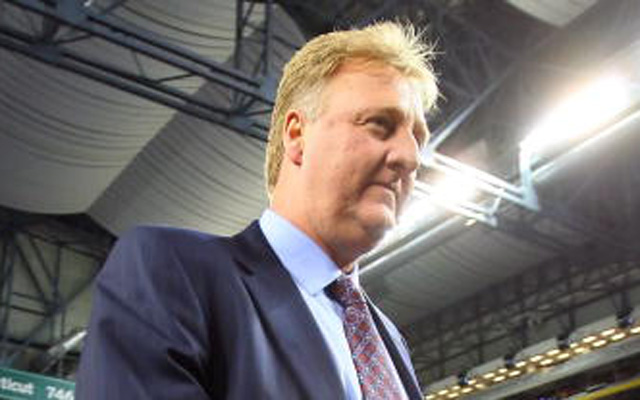 Bird's son was arrested Sunday.
(Getty Images)
Larry Bird's son, Connor Bird, was arrested Sunday at Indiana University for allegedly trying to hit his ex-girlfriend with a car, along with other charges. From the Indianapolis Star:
The son of basketball legend Larry Bird was arrested Sunday at Indiana University, said Chief Keith Cash of the Indiana University Police Department.

Connor Bird, 21, allegedly tried to hit his ex-girlfriend with a car. Bird faces multiple preliminary charges, Cash said, including battery with injury, criminal mischief, intimidation with a deadly weapon and possession of marijuana.
via Larry Bird's son faces multiple charges in IU campus incident | Indianapolis Star | indystar.com.
No formal charges have been filed as of yet, according to the report. An attorney for Bird declined comment to the Star other than to say: "This is a very private matter that we're going to try to resolve quickly. We're thankful that no one was seriously injured."
Larry Bird, 56, retired from baskeball life last summer after serving several years as president of the Pacers. He has reportedly retired to Florida in recent months. The Hall of Fame forward was a 12-time All-Star and three-time NBA champion.