As we sit here right now, with one week left in the regular season, the Seattle Seahawks are the NFL's best team, and clearly look to be on their way to repeating as Super Bowl Champs.
I've had my doubts about that happening along the way this season, but right now I am starting to lean toward a repeat for the Seahawks.
And it's not just because the so-called "12s," that legion of crazies who follow their every move and hate every single thing I write, have come at me non-stop.
The reason I say that is because that defense is impenetrable right now -- giving up 6.8 points a game in the last five. The Seahawks will also likely be playing at home for their two postseason games and Russell Wilson is getting better -- a lot better.
I am not going to sit here and say he's great, like some of my cronies of hyperbole in the media -- one in particular who loves Star Trek -- like to say. What I will say is that he was great last Sunday night against the Cardinals in Seattle's blowout victory, a victory that vaults the Seahawks into the No. 1 spot here in my Power Rankings.
Wilson still runs way too much for my liking -- I like my quarterbacks in the pocket -- but his version of playing the position is growing on me. He is smart. He is deadly outside the pocket and he is elusive and fast when he tucks it and runs.
Wilson's 55-yard run up the middle on a scramble against the Cardinals ignited his team. But when the quarterback is rushing for nearly 1,000 yards, that's too much running. I know his line has struggled, and that forces him to move, but he sometimes moves for the sake of moving.
Even so, I have to give him his props. He isn't top-five as a quarterback in my book, but he's moving up that list.
Maybe I was wrong about the guy. Wilson is pretty damn good.
There, I said it.
Wilson plays the way the Seahawks need him to play. With that defense, he just needs to move the chains, not turn it over, make plays with his legs to keep the ball and then sprinkle in a handful of big plays. He has accounted for 26 touchdowns and has turned it over just six times.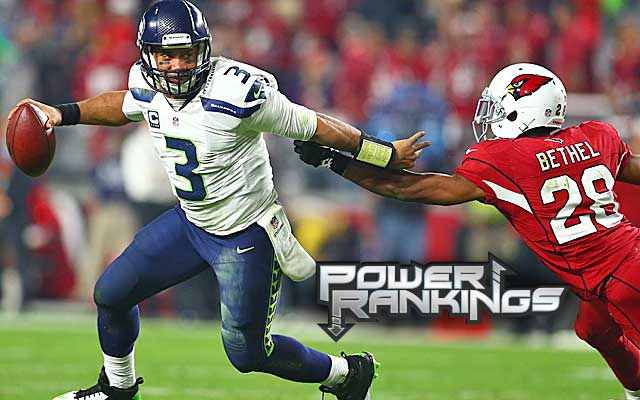 Wilson might not be the same quarterback with another team because I don't think he can carry a team. But as the leader of this offense, with that defense, he's a perfect fit.
Seattle will be tough to beat come playoff time. A repeat seemed far off six weeks ago. Not anymore.