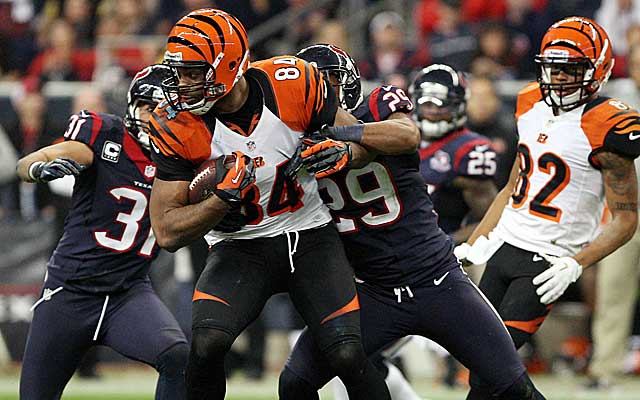 HOUSTON -- The last time the Houston Texans went to New England, they were riding high, owned he best record in the AFC, seemed on their way to the No. 1 seed in the conference and felt so good, in fact, they made up some hokey letterman jackets to wear on the trip.
The Patriots ripped the Texans 42-14 Dec. 10, and the Texans weren't the same the rest of the regular season. Some Patriots players made comments about those jackets after the game, something to the effect that the Texans were treating the game much bigger than it was -- which was just another regular-season game.
So here were five weeks later and the Texans are going back to New England, only this time it is a big game, the winner going to the AFC Championship Game, one step away from the Super Bowl.
More on Bengals-Texans
NFL wild card weekend
More NFL coverage
Houston, which lost three of its final four regular-season games, did just enough on offense to pull out a 19-13 AFC wild-card victory over the Cincinnati Bengals on Saturday at Reliant Stadium to earn the trip to face the No. 2-seeded Patriots next Sunday.
Was it too soon to start thinking about New England in the postgame locker room after beating the Bengals?
For some, it was. For others, it was too late. Texans defensive end Antonio Smith brought that game up to his teammates on the sideline as they were closing out the Bengals.
"I'm pregnant with it," Smith said. "And I told them that on the sidelines. You can't forget it. You have to take it with you. You have to put it in your gut. You have to hurt. You have to remember every bit of despair you felt because that's the level you have to go to play a team like that."
Then there was safety Glover Quin's view of it, a polar opposite.
"I ain't thinking about that game," he said. "I ain't looking back at that game. I don't even want to talk about it."
So it's erased?
"It's erased," he said.
I imagine the overall team view is somewhere in the middle. But you can see it from both sides. The Texans were embarrassed that night and struggled the rest of the way, dropping down to the AFC's third seed. It's why nearly everyone expected them to lose to the Bengals, even though they were at home.
Here's the reality: The Texans started their slide in New England that night and next week they will end their season there -- no matter how much pain Smith wants them to take there with them.
The reason is simple. Their best offensive strategy is to run Arian Foster, and quarterback Matt Schaub isn't playing very well. To beat Tom Brady, you have to score like Tom Brady.
Good luck with that, Houston.
Even in beating the Bengals, the Texans never really seemed to get it going on offense, except for Foster. He was sensational, rushing for 140 yards and a touchdown on 32 attempts.
Schaub's numbers looked decent enough -- he was 29 of 38 for 262 yards, no touchdowns and a pick-six by Bengals corner Leon Hall -- but he just hasn't played well in the past six weeks. It was Schaub's first career playoff game because he missed last season's playoff games with a foot injury.
The Texans did the two best things they could for Schaub by controlling the clock and limiting the Bengals to 198 total yards. The defense, which had struggled down the stretch, looked like the Texans defense that dominated early this season.
Bengals quarterback Andy Dalton was horrible. So was the Bengals' play calling, for that matter. They didn't throw one pass to A.J. Green in the first half. I don't care how much coverage is rolled his way, they have to take a shot to him.
Dalton finished with 127 passing yards and a passer rating of 44.7. Green had five catches for 80 yards in the second half, and Dalton missed him on a sure touchdown pass late in the game that would have put the Bengals ahead.
"We know who we are as a defense," Quin said. "I mean a lot of people are going to doubt you and say this, this and that from week to week. We know who we are and the only thing that matters is what the people in that defensive room think and believe in."
The Bengals were 0 for 9 on third down. The last time that happened in a playoff game was in the 1988 AFC Championship Game when the Bengals did it to the Buffalo Bills.
Shutting down Dalton is one thing. Shutting down Brady in the playoffs on the road is another.
"Nobody said the road to the Super Bowl is easy," Texans defensive tackle J.J. Watt said. "You have to go earn it."
Now comes the letterman jacket-talk. You know it's going to be brought up all week, so I figured I'd start in the locker room after Saturday's game. Some players got annoyed at the mere mention of the jackets, and there was no sign of any in the locker room.
"That's our deal," cornerback Kareem Jackson said. "That didn't play no part in the way we played."
Said Smith: "The letterman jackets had to nothing with New England. It was an idea [nose tackle Shaun] Cody and [linebacker] Connor [Barwin] had, just as a camaraderie thing. They wanted to wear them."
I asked if those jackets were now in mothballs. Smith said some guys still wear them. I asked if they would be worn next week.
"It doesn't matter," he said. "I'll wear my socks and my drawers, whatever it takes. Say it right now to the Patriots. For this battle, I'll wear anything."
If the Texans contain Brady as well as Smith handled the locker room Sunday, they could be moving on.
But in a league where quarterback is king in the playoffs, I have my doubts whether Schaub, who has struggled in big games, can get it done -- no matter what they wear on their business trip.