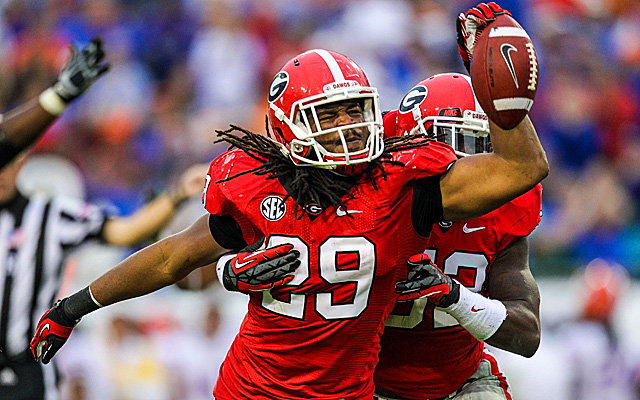 INDIANAPOLIS -- He didn't draw a Manti Te'o crowd, but that doesn't mean you shouldn't be interested in what happens to Georgia linebacker Jarvis Jones because there are a lot of teams that are.
And for good reason: He could be the best player in this draft.
But he's not, and he's not because of spinal stenosis -- a narrowing of the spinal canal -- that should make Jones and NFL clubs nervous. It caused USC to fail him on a physical, and it had doctors examining him for so many hours Saturday he didn't appear for an interview until after 5 p.m. -- or hours after the Te'o crush dispersed.
"Most of the doctors checked me out and feel that I'm fine," said Jones. "I feel that I'm healthy. The doctors feel like I'm healthy. So I'm excited."
That's great, except it's what tests reveal that matter. Jones admitted there was "no final word" from physicians and that he hopes to receive it by the end of this weekend or sometime next week. In the meantime, however, color his future uncertain.
"There's real concern," one scout said. "It's serious. I doubt that he's going to pass many teams' physicals."
That's too bad because the guy has so much talent that the same scout said he might make him his top draft pick ("certainly in my top five"), but that medical concerns worry him. And he won't be the only one.
"If doctors told me I couldn't play today, I think I've had a great run and I would just take it for what it's worth," said Jones. "It would hurt me [not to play]. I love this game. I'm passionate about this game. But I'd rather walk and enjoy myself and my family than not be able to walk away from this game."
2. Jones isn't the only Georgia linebacker under the microscope. Alec Ogletree is another. There are plenty of teams out there that can use someone of his ability, but it's not his ability that's an issue. It's his maturity.
"The guy's an immature idiot," said one player personnel director.
That's one way of putting it. Another is that he's a character concern, with last week's DUI arrest the latest blip on the radar. It wasn't his only arrest; only his most recent, and combine that with a four-game suspension for a positive drug test, and you have a risk some people may not be willing to take.
"I'm a good person," Ogletree told reporters. "Everybody makes mistakes. I feel bad about the situation, but I'm learning from it and I'm moving forward."
He may not be moving forward in the draft. Ogletree is a potential first-round pick who is explosive, strong, quick, and instinctive, and he could be a high first-round choice. But his recent arrest will back off potential suitors, with one scout telling me it could cause his team to pass on the guy.
"I don't know what it's going to do (to my draft status)," said Ogletree. "I feel bad about it. I'm really sorry about it, but I just have to move forward and take whatever I get."
3. Congratulations to Te'o. He set the unofficial attendance record at the NFL Scouting Combine with an overflow audience estimated at 250 in attendance.
4. Te'o's biggest hurdle isn't getting through Saturday's inquisition with no scars. It's proving to his next football team that he's not the linebacker we saw in the BCS title game.
5. Michigan quarterback Denard Robinson is here, but not to throw. He'll work out Sunday as a wide receiver despite an injured elbow that causes numbness in his hand and is, by his own admission, "60 percent." Nevertheless, Robinson said he'll do what he can at his new position. "There are no excuses," he said." I'm going to go out (Sunday) and try my best." I like that. I like Robinson's attitude toward his position change, too. He's willing to play wide receiver, running back and return kicks, and he's receptive "to whatever a team tells me." Asked if he'd consider himself a gamble, he didn't flinch. "A lot of people like to gamble, don't they?" he said. "I'd say, 'I'd be a pretty sure thing.'"
6. If you're wondering what that first practice with Chip Kelly will be like in Philadelphia, listen to Oregon running back Kenjon Barner. "He pushes you to a limit that you didn't know you had," he said. "I was really used to the coach Bellotti (former coach Mike Bellotti) way -- which was run a play; take a break; run another play; take another break. With coach Kelly it was, 'I want it right now.' You have your tongue hanging out of your mouth. You're tired. You're dry-heaving. It was a rough day." Can't wait.
7. The scouting report on Arkansas-Pine Bluff tackle Terron Armstead says the guy is "nimble and light on his feet," and he proved it with a 4.71 40 Saturday, the fastest unofficial time for an offensive lineman at the combine.
8. Look for BYU defensive lineman Ziggy Ansah to wow scouts with his workout. People tell me he's the best athlete in this draft, and it's easy to see why. He ran a 21.9 200 meters, has a 39-inch vertical leap and failed in two tryouts with the BYU basketball team. There have been comparisons to the Giants' Jason Pierre-Paul, who, like Ansah, was raw, had limited football experience and was projected as a first-round pick. Ansah can play defensive end or outside linebacker and has the build (he's 6-5, 271) to add more weight. "I like the challenge a lot," he said. "There are a lot of people who have doubts about me, and I want to prove them wrong."
9. Since we're on the subject of JPP, one question for Ansah: Can he do back flips? "Not yet," he said.
10. Clemson wide receiver DeAndre Hopkins said he'd like to run a 4.4 40 on Sunday, but he doesn't sound that confident. "I hope to run a good 40," he said, "but if I don't that doesn't make a good football player. It's all about what you do between the numbers." Speed is an issue with the guy, and while he said he can't remember getting caught from behind, a fast 40 could improve his draft standing.
11. Tell me Texas A&M tackle Luke Joeckel doesn't look like a young Tony Boselli. Good news for Kansas City: Some people think he plays like one, too.
12. History tells you the Dallas Cowboys don't draft a quarterback. I mean, they've drafted two since 1995. But reality tells you they must: Tony Romo turns 33 in April, and while the club is talking about an extension with him it's talking extension for one reason -- there's no one of consequence behind him. This year's quarterback class isn't strong at the top, but it is deep. Add the Cowboys to the list of clubs that should make a move.
13. Oklahoma's Lane Johnson is a tackle to watch because of his athleticism and versatility. He can play either side, starting at right tackle as a junior before moving to the side as a senior. But his 40-yard dash time Saturday will boost his stock more. He ran a 4.72. So will his strength. He did one more rep in the bench press than Joeckel and Eric Fisher, the top two tackles on the board.
14. UNC's Jonathan Cooper, the second-best guard in the draft, showed position flexibility Saturday by working at guard and center -- showing teams he can play either position. While Chance Warmack is the top-ranked guard, Cooper just made himself a more attractive option. Reason: Warmack plays only one position.
15. Expect defensive end Alex Okafor to be recovered from a hip flexor injury by his March 26 Pro Day. He said he's "very close" to being ready but won't go through drills until he is -- which is why he's skipping this weekend's workouts. Okafor had 12 sacks this year, including four in his last game vs. Oregon State.
16. Another casualty who is here, Florida State defensive end Tank Carradine, promises that he'll be "100 percent" by the April draft and able to go through all drills by mini-camp. Carradine suffered a torn ACL late in the 2012 season. He was the team's leading tackler and could be a steal for someone if he's on schedule with his recovery. "I'm more than healthy," said Carradine. "I actually have been doing a little bit of running, not that much, but I'm really going to start running this Monday (Feb. 25). My knee feels good, and I'm actually a month ahead of schedule." Carradine, who had 13 tackles for losses and 11 sacks before he was hurt, could be an option for the Dallas Cowboys if they don't re-sign Anthony Spencer. The Cowboys have taken two injured players in the second rounds of the last two drafts -- linebackers Sean Lee and Bruce Carter -- and both paid off.
FIVE QUOTES TO REMEMBER
• "No, not right now." -- Notre Dame linebacker Manti Te'o when asked if he's dating anyone in "real life."
• "I played a lot of Madden. That's how I got to know the NFL." -- FSU defensive end Bjorn Werner.
• "I'm going to make some noise right off the bat and, hopefully, play some meaningful minutes." -- Texas defensive end Alex Okafor.
• "It's not how you drive. It's how you arrive. If you stay focused you can be what you want to be." -- Georgia linebacker Jarvis Jones.
• "I don't have to be around coach (Bill Belichick) to know you just got to shut up and get it done." -- La. Tech wide receiver Quinton Patton on what it would be like to play for the Patriots.