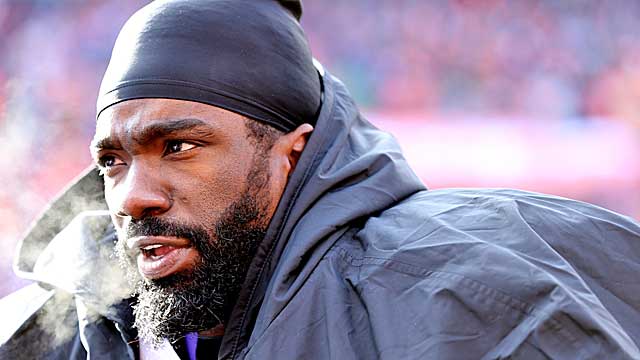 During the NFL season, following a Cincinnati Bengals' victory, I told defensive end Michael Johnson he would top a lot of free-agent lists.
He topped my list -- until last Friday.
That's because the Bengals gave Johnson the franchise-tag designation, which means he won't move. Johnson was one of several players in the top 10 of my top-50 list of free agents to get the tag.
When it comes to putting together the top 50, I have three rules: no players with franchise tags, no restricted free agents and no players in the top 10 who will turn 30 this year. That's too old to be paying big-money, long-term deals.
That takes players like Miami left tackle Jake Long and Cowboys outside linebacker Anthony Spencer out of my top 10. In addition to Johnson, others who would have been in the top 10 were it not for the franchise tags were Chicago defensive tackle Henry Melton and Bills safety Jairus Byrd. They both fit the age requirements.
If you're looking for big veteran names at the top of this list, you won't find any. What you will find is a bunch of young talent that is on the verge of being special. You also won't find any running backs or quarterbacks in this list of 50. There are no backs because I don't think you pay aging backs. You won't find any quarterbacks because none of them were good enough.
The top guy on the list is Bengals right tackle Andre Smith. He is coming off his best season and should have been All-Pro at right tackle. But they only pick left tackles.
He is only 26, the right age, and he has a massive body for the run game. Yes, he's had some issues with his weight, and his body will never look good, but he has made himself into a heck of a right tackle.
Is he worth the $9 million a year he is seeking? That's for a team to decide. What they will be getting is a young tackle ready for big things.
So while one Bengals player -- Johnson -- is out of the top spot because of his franchise tag, another in Smith is in.
1. Andre Smith, T, Bengals -- Yes, his body is bad. And he's had some weight issues over the years. But he was the best right tackle in the game last season.
2. Mike Wallace, WR, Steelers -- Speed, speed and more speed. In the right offense, one that plays to his ability to run, he will be a star. Steelers fans hate him, and they will hate him even more when he leaves and plays well.
3. Cliff Avril, DE, Lions -- Is he an elite pass rusher? That's the question. He's solid, but he wants to be paid like a star. He has 39 ½ sacks the past five seasons and he's only 26. That means something.
4. Andy Levitre, G, Bills -- He is one of the better guards in the league, but teams aren't apt to spend a ton on that position. He isn't pretty all the time, but he gets the job done.
5. Aqib Talib, CB, Patriots -- In terms of ability, he can cover. But he has baggage that will surely drive down his price. But he can play man coverage, which teams want. He is only 27.
6. Sebastian Vollmer, T, Patriots -- He has some back issues that could be a concern, but he played well in 2012. He is good in pass protection and is solid in the run game.
7. Michael Bennett, DE, Bucs -- He's a good, solid defensive end. He plays hard and plays the run well. But he's been swallowed up in some games. That's concerning. He did have nine sacks last season and he is 27.
8. Glover Quin, S, Texans -- He can play in the box. He can cover. He's young. He's a former corner. What's not to like? Watch his Vikings tape. You will love the kid.
9. Dannell Ellerbe, ILB, Ravens -- He's a young tackling machine who was the best linebacker on the Super Bowl champs. At 26, he's the right age.
10. William Moore, S, Falcons -- He is a rangy safety now coming into his own. The Falcons want him back, but he will cost them.
11 Dashon Goldson, S, 49ers -- He is a big hitter who fits what the 49ers do. Could he be as good in another system, especially since he lacks great cover skills?
12. Jake Long, T, Dolphins -- It's trendy to say he's not as good as he used to be, which is true. But he's still a lot better than most left tackles.
13. Sean Smith, CB, Dolphins -- He looked like a star early last season, but then tailed off some. He does have man-cover skills, which teams want.
14. Paul Kruger, OLB, Ravens -- His play in the postseason will earn him a nice deal. But he's more solid than special.
15. Desmond Bryant, DT, Raiders -- His recent arrest won't help him, but he played well for the Raiders in 2012. He will get some action early.
16. Phil Loadholt, T, Vikings -- Road-grader tackles are key to a running attack. He is a big reason why Adrian Peterson ran wild last season.
17. Greg Jennings, WR, Packers -- Is he a No. 1 receiver anymore? Or have injuries and age taken that away?
18. Keenan Lewis, CB, Steelers -- He was the best cover player in the Steelers secondary last season. At 26, his time is now.
19. Dominique Rodgers-Cromartie, CB, Eagles -- He wasn't great last season, but he has a ton of athletic ability. It's almost as if people are waiting for it to show.
20. Phillip Wheeler, OLB, Raiders -- He is coming off his best season and is ready to cash in big. He can run, which helps in this speed game.
21. Alan Branch, DT-NT, Seahawks -- He has jump-started his career with Seattle after a slow start with the Cardinals. He is a big, powerful man who can anchor in against the run.
22. Sam Baker, T, Falcons -- The Falcons want him back for the right price, which is why they cleared cap room. He was their best tackle in 2012, contrary to what some think.
23. Brad Jones, ILB-OLB, Packers -- He made himself some money when he moved inside last season because of injuries and played at a high level.
24. Greg Toler, CB, Cardinals -- A year removed from a torn ACL, he played well in limited time last season. He is a tough corner who will tackle.
25. Martellus Bennett, TE, Giants -- In his one-year stint with the Giants, he proved to be a nice all-round tight end. He can block and catch. He seemed more focused in 2012.
26. Cary Williams, CB, Ravens -- He is coming off his best season and some scouts think his best football is ahead of him. But is he a No. 1 corner? Not really.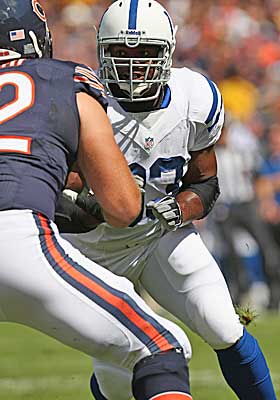 27. Dwight Freeney, DE, Colts --
I like him as a situational guy. He can't play 50 snaps a game, but can be a 10-sack guy if he gets 20-25 plays or so.
28. William Hayes, DE, Rams -- This is an underrated player on the market. He can rush the passer from the outside and can slide inside on third down.
29. Pat Sims, DT, Bengals -- He's battled some injuries, and he's been mostly a backup, but at 26 it might be time for him to be a starter.
30. Louis Vasquez, G, Chargers -- On a bad line, he had a good season in 2012. But is he worth a big deal?
31. Wes Welker, WR, Patriots -- He will turn 32 this summer, which makes it tough to pay him a long-term deal. I still think he stays in New England.
32. John Abraham, DE, Falcons -- He has 19 1/2 sacks the past two seasons, but just three in the division. Has feasted on some bad tackles but can still help as a situational rusher.
33. Jermon Bushrod, T, Saints -- He has done a solid job as a blind-side protector for Drew Brees, but his play tailed off in 2012.
34. Louis Delmas, S, Lions -- He's a good player when he's on the field. But he can't stay out there because of injuries. That makes him risky.
35. Derek Cox, CB, Jaguars -- When he's on the field, he's damn good. The problem is he hasn't stayed on the field enough because of injuries. He's a tough evaluation.
36. Charles Woodson, S, Packers -- He isn't what he used to be, but he can still play safety and help cover all those tight ends who can run.
37. Sammie Lee Hill, DT, Lions -- Playing behind Nick Fairley, Ndamukong Suh and Cory Williams, he didn't get a ton of snaps. But when he played, he did some good things.
38. Osi Umenyiora, DE, Giants -- He is 31, but can still be a solid pass rusher as a situational player.
39. Brandon Moore, G, Jets -- He has been a quality guard for the past couple of seasons. Not great, but good.
40. Brandon Myers, TE, Raiders -- He is a nice receiving tight end and a lot of teams are looking for those types of players. And he's only 27.
41. Gosder Cherilus, T, Lions -- He played well for the Lions last year after a slow start to his career. Still young and his best football could be ahead of him.
42. Jared Cook, TE, Titans -- He has a ton of ability, but has never lived up to it. Could be a tease.
43. Connor Barwin, OLB, Texans -- Somebody looking for a pass rusher will pay him. My question is this: Where was the production in 2012?
44. Roy Miller, DT, Bucs -- If a team is looking for a run-stuffing nose tackle this guy is it. He doesn't give much at all in terms of pass rush, but he can anchor the run.
45. Victor Butler, OLB, Cowboys -- He didn't get much time behind Spencer and DeMarcus Ware, but he is 26 and has flashed some pass-rush ability.
46. Danny Amendola, WR, Rams -- If he can stay healthy, a big if, he's a heck of a player.
47. Ricky Jean-Francois, DT, 49ers -- He's been a quality backup on a good line. The question is whether he can be a quality starter. At times, he looked like it.
48. Bradley Fletcher, CB, Rams -- He's had two knee surgeries, and he was relegated to the bench late last season, but he has some nice man-press cover skills. He is only 26.
49. Brian Hartline, WR, Dolphins -- He might not be a No. 1, but he can be a pretty good No. 2.
50. Ed Reed, S, Ravens -- He turns 35 this year. That's old. And he's starting to play like it. He is more name than game now. A two-year deal is all he's worth.
Just missed: Chris Houston, CB, Lions; James Casey, TE, Texans; Delanie Walker, TE, 49ers; Terrance Knighton, DT, Jaguars; Mike DeVito, DT, Jets; Sen'Derrick Marks, DT, Titans; Chad Rinehart, G, Bills; Domenik Hixon, WR Giants; and Ramses Barden, WR, Giants.