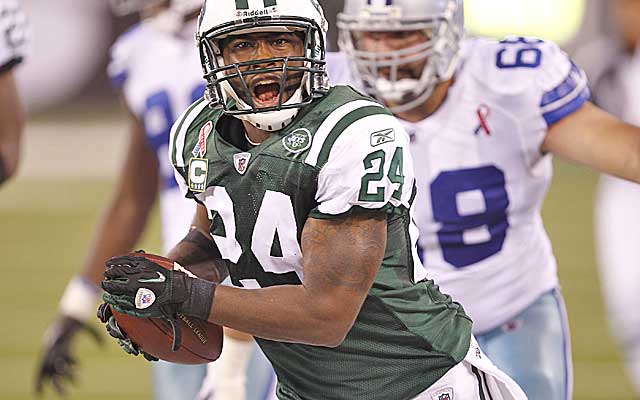 The New York Jets have to trade star corner Darrelle Revis. But no team should trade for him -- especially if the Jets want two premium picks.
So what gives?
Good question. The Jets, obviously in rebuilding mode, want to move Revis. There are teams out there interested, most notably Tampa Bay, but what's the price?
With teams realizing the Jets almost have to trade him because he can become a free agent in 2014, the Jets' leverage isn't what it should be.
There are other things hurting that leverage.
Revis himself.
For starters, Revis is coming off an ACL. He can't plant and run and show teams what he can do yet. And if a trade were made in the next month, the team trading for him would be doing so without knowing for sure if he can be close to the same player.
I know a ton of people who say he will be the same player, which means the best corner in the NFL. There is no guarantee of that. It's an ACL, folks. Those are tough to overcome. I even mentioned that to the agents of Revis at the combine.
They insisted he would be the same.
"Can you guarantee it?" I said.
Agents Neil Schwartz and Jonathan Feinsod, two of the best in the business, could not. They are bright agents, but they aren't fortune-tellers.
Adrian Peterson and Jamaal Charles came back from ACL surgery and did more than fine. But that's no guarantee Revis will. The notion that Revis is going to be the same player is just speculation. He could be. He might be. But there is no guarantee.
One team executive I spoke with at the owners meetings said a trade would be contingent on the doctors passing him on a physical.
"You have to trust your doctors," he said.
Passing a physical and playing at a high level coming back from an ACL are two different things. Corner requires a lot of planting and cutting. It's not an easy position to play coming back from an ACL. Revis is a special kind of athlete. And he is working to get back. But what about the confidence level? Until you line up and play, human nature says there will be doubts.
So there's that risk for any team making a trade.
I surveyed a handful of league general managers to see if they'd be willing to trade for Revis, who turns 28 in June, in exchange for two premium picks. All five responded with a glaring no.
"He's pushing 30, right?" one GM asked. "He's not a kid anymore. So no way."
"I would be scared to death giving up a lot for an unproven knee," said another GM.
"I wouldn't pay that much for damaged goods," said another GM. "Only someone desperate looking to make a splash would."
The other risk is the contract risk. Revis is in the final year of a deal. So if a team were to trade for him, it would do so knowing full well that you either give him a long-term deal that makes him one of the highest-paid defensive players in the league or you rent him for a year and take your chances. Nobody trades two premium picks for a rental.
"How do you know if you pay him that you are getting the real McCoy?" one of the general managers said.
Two other general managers were worried about Revis fitting into any system. He is a player who played a lot of press-man coverage for the Jets. So what happens if he were to go to a team that plays more zone?
One of the general managers pointed to Nnamdi Asomugha and his move from Oakland to the Eagles. He was a special man-cover player who seemed lost in the Eagles' scheme.
In the end, all five general managers I surveyed had the same thinking: No to paying premium picks and paying top dollar to land a corner coming off ACL surgery and closing in on 30.
So what are the Jets to do? Will Tampa Bay bite? Or could the Bucs wait and see if one of the top corners were to fall to them at No. 13 in the first round. I do know that's a concern of the organization.
With three weeks to go before the NFL Draft, Revis is still a member of the New York Jets -- even if they continue to try and work to make him an ex-member, which is something they should do if they truly are rebuilding.
The Jets have their fishing lines out, but will anybody bite? Better yet: Should they?