Troy Brouwer criticizes Alex Semin, says he was tough to play with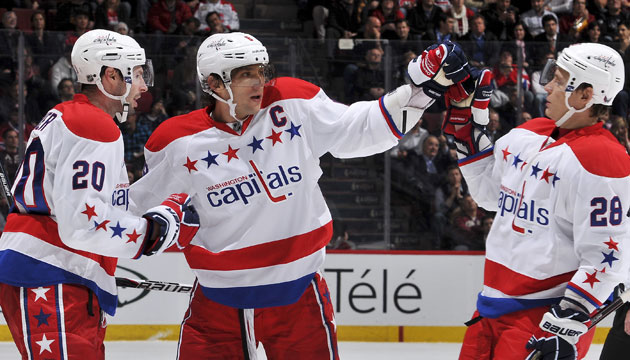 More NHL: Scores | Standings | Odds | Fight-O-Meter | League Leaders | Rumors
On Tuesday night Alexander Semin will make his first visit back to Washington to play the Capitals as a member of the Carolina Hurricanes. If Troy Brouwer's words are any indication, it won't be a happy homecoming.
Semin was not re-signed by the Capitals in the offseason, allowing him to hit the free-agency market where he eventually landed with the Hurricanes on a one-year deal. The reasons for his exit in Washington were many, but one of them surely centered on his reputation as a player who only plays when he wants to. He had been labeled as the NHL's version of Randy Moss; supremely talented with questionable drive.
That questionable drive is still remembered by some of the Caps like Brouwer, who is never one to shy away from speaking the truth.
"It was tough to lose his scoring ability when he wanted to play," Brouwer said on Monday (via Washington Times). "But all in all I think we've been doing well without him."
"Some nights you didn't even know if he was gonna come to the rink. It's tough to play alongside guys like those because you don't know what you're gonna get out of 'em."
Well, between this and what Matt Bradley said and then later retracted, I suppose there is certainly some validity to all of the character assassination Semin has faced in recent years. It's one thing to hear from guys like Pierre McGuire, but it's a whole other thing to hear it from guys inside the locker room, guys who actually played with Semin.
As to that comment about "I think we've been doing well without him," well, perhaps Brouwer should look at the NHL standings. The Capitals will find themselves at the very bottom in the East. Meanwhile, Semin's team is tied for first in the Southeast Division.
I'm just taking a guess here but I don't think Carolina has to worry whether or not Semin will show up on Tuesday night in DC. He's probably eager to get to play his former team that didn't want to re-sign him. That was before these comments from Brouwer.
Really, Carolina hasn't had to worry any day. The one-year contract they signed him to has worked out awfully well so far.
OK, I guess I don't have guess anymore. Carolina does love having Semin around as Tim Brent said via Twitter a short while after Brouwer's comments.
Just read Troy Brouwer's comments about Semin. I can say on behalf of his teammates that we love having him here, and he has been (cont)

— Tim Brent (@Brenter37) February 25, 2013
a big part of our success so far with his consistent play and work ethic. NOT only his scoring ability. I hope he sticks it to them #canes

— Tim Brent (@Brenter37) February 25, 2013
For more hockey news, rumors and analysis, follow @EyeOnHockey and @StubitsCBS on Twitter, subscribe to our YouTube account and like us on Facebook.